Controversial Social Media sensation, Kwame Asare Obeng also know as A Plus days a go released words of venom on Ghanaian rapper Sarkodie with all kinds of unsolicited words.
According to Ghanaonteglobe.com report, A Plus, a former member of New Patriotic Party has labelled Sarkodie as hypocrite over his inability to talk truth to power.
His words comes after some Ghanaians tagged Sarkodie as unpatriotic after the rapper failed to released a song for the current government even though he released a lot of songs under Former President John Mahama concerning "Dumsor" and hardship in the country.
Read Also: Akufo-Addo Preparing To Buy New Presidential Jet
Sarkodie in a tweet wrote, " The people are going through it!!! We always do! All we ask for is for is for the right environment to hustle/be productive"
In a release by A Plus, he stated that Sarkodie is failing to talk about all the economic hard situation because he doesn't want to talk against certain high people in power.
"The hypocrisy. During John Mahama time as President the hardship was caused by his incompetence abi? Now there is a serious hardship under Akuffo-Addo, instead of telling him the truth, you added "we always do" to make you look good before them. " A  Plus reply to Sarkodie
Read Also: Akuapem Poloo's 90 days sentence reversed; fined Ghc12k
Sarkodie is yet to reply to all the allegations been made by A Plus.
Below Is The Post: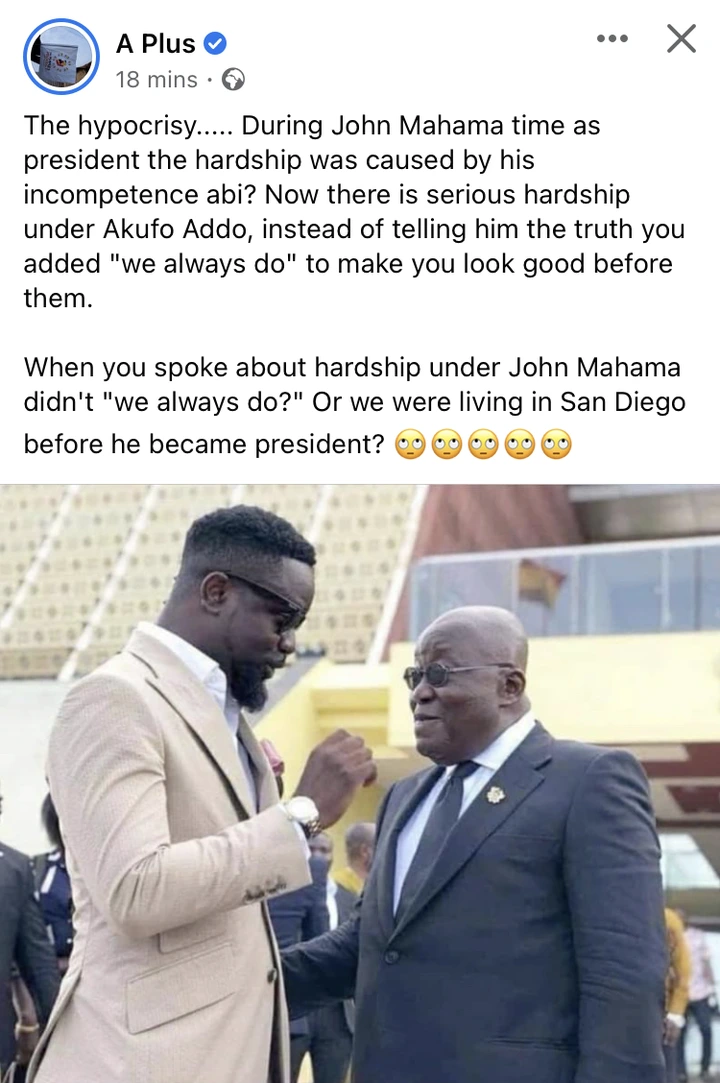 Source: Ghanaontheglobe.com